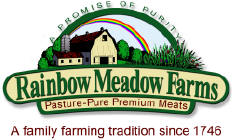 First of all, we would like to send a Happy 2009 to our customers. We wish you a happy and healthy new year. Thank you for your business in 2008. We hope that you will continue to let us supply you with our Pasture Pure Premium Meats in 2009. We offer Sausage (hot, mild, sage), Sweet Italian, Hot Italian, Bratwurst and Andoulli.
Currently, we have about 35 pigs that are weaned and should be ready in the Spring. They are growing like weeds. A big group of lambs was born in November-December. The next lambing will start in February. Grass is somewhat limited with it being winter, but we are managing to keep the sheep on grass along with some supplemental hay.

The last batch of broiler chickens was slaughtered at Christmas. So, we have plenty of chicken to sell. It's too cold for the broilers to be in pasture this time of the year. So, we will start a new batch in the brooder barn in early February.
With the waning amount of daylight hours, the hens slowed down egg production significantly in December. Hopefully, as day length gets longer, they will start to pick up egg production some. Thank you all for your patience during this time of low egg production. We have been advising all our customers to get orders in for eggs ahead of time to ensure that we will have them for you.
We slaughtered 3 hogs for Christmas sales. Loins and chops have gone quickly. But we have some pork chops left, as well as beautiful Boston Butt and Shoulder Roasts. Of course, we also have our delicious sausages in Hot, Mild and Extra Sage. I will have to say that the pork chops from these hogs has been the best of all that we've slaughtered so far.
Genell is at the New Bern Farmer's Market every other Saturday beginning January 3, 2009. The market is open all year. We have a booth at the Raleigh Farmer's Market in Building 2 and Sandra is there every Friday, Saturday, and Sunday from 9:00 a.m. to 5:00 p.m. and on special occasions on other days.
We have a good number of customers coming up to New Bern from Oriental to purchase our products. The Hungry Dragon in Oriental possibly would be glad to take your order and pick it up for you. We encourage you to visit our new website, www.rmfpasturepuremeats.com and place your order ahead of time. Also, tell a friend. We are looking to form a solid buying co-op in the Pamlico county area as well as other areas (Triangle, Raleigh, Greenville, New Bern, Beaufort, Goldsboro, Wilson, and Wilmington).

Warmest Regards for the New Year,

Genell Pridgen

Rainbow Meadow Farms –Pasture Pure Premium Meats
Office: (252) 747-5000
Fax: (252) 747-5000

Recipes:
Albondigas "Sant Climent"
(Lamb Meatballs in Brandy Sauce)
2 lb. ground lamb
2 eggs
4 cloves garlic, crushed to a pulp
4 T chopped parsley
2 T coarsely ground black peppercorns
1 C plain, fresh bread crumbs
4T dry red wine
2-3 T olive oil
1 med.-lg. onion, chopped
¼ C brandy, Spanish, or Cognac
3-4 T plain tomato sauce
1 C lamb or beef broth
In a small bowl, soak the bread crumbs in the red wine. In a larger bowl, combine the lamb, the eggs, the crushed garlic, the parsley, pepper, and salt to taste. When the wine has been absorbed by the bread crumbs, add these too to the larger bowl. Mix very well and form into 25 meatballs of a size suitable for dinner, or of a smaller size to be eaten as an appetizer.
Heat the olive oil in a large skillet and brown the meatballs well on all sides. When browned, turn down the heat a bit, and spoon off the extra fat in the skillet. Add the chopped onion and cook with the meatballs for a few minutes, until the onion is softened and translucent. Add all of the brandy at once, and allow it to flame and then go out. Stir in the tomato sauce and broth, and bring to a low simmer. Cover and cook slowly for 45 minutes. Adjust for salt and serve at once.
Source: Penelope Casas, The Foods and Wines of Spain


ROASTED SPICED PORK SHOULDER ROAST WITH ROOT VEGETABLES
<![if !vml]>

<![endif]>
For sauce
6 bacon slices, cut in half
6 cups canned low-salt chicken broth
1 1/2 cups dry white wine
1/2 cup red currant jelly
1 1/4 teaspoons minced fresh rosemary
3 tablespoons unsalted butter
For pork
A mortar and pestle or even a coffee grinder can be used to grind the spices. 2 teaspoons cumin seeds
2 teaspoons coarse salt
1 teaspoon black peppercorns
1 teaspoon black cardamom seeds (from about 30 whole green or white cardamom pods)
1 4- to 4 1/4-pound Pork Shoulder Roast
1 tablespoon olive oil
For roasting
2 1/2 pounds large russet potatoes (about 5), peeled, halved lengthwise, cut into 2-inch pieces
1 1/2 pounds large parsnips (about 4), peeled, cut into 2-inch pieces, thick portions halved lengthwise
1 1/2 pounds large carrots (about 4), peeled, cut into 2-inch pieces, thick portions halved lengthwise
8 large shallots, peeled, halved
8 large garlic cloves, peeled
3 large fresh rosemary sprigs
6 tablespoons olive oil
8 medium beets, peeled, cut into 1-inch wedges
<![if !vml]>

<![endif]>
Make sauce:
Cook bacon in heavy large saucepan over medium heat until crisp. Using tongs, transfer bacon to paper towels. Discard drippings from pan. Add broth, wine, jelly and rosemary to pan. Boil until reduced to 2 1/2 cups, about 35 minutes. Return bacon to sauce. Boil until liquid is reduced to 1 1/3 cups, about 10 minutes longer. Strain sauce into small saucepan. Add butter. Whisk over low heat until sauce is smooth, about 2 minutes. Season with salt and pepper. (Can be prepared 1 day ahead. Cover and refrigerate.)
Prepare pork:
Finely grind first 4 ingredients. Place pork in 13x9x2-inch glass baking dish. Rub oil, then spice mixture all over pork. Cover; refrigerate 4 hours and up to 1 day.
For roasting:
Position racks in center and bottom third of oven and preheat to 400°F.. Place potatoes, parsnips, carrots, shallots, garlic and rosemary in large roasting pan. Drizzle with 5 tablespoons oil; sprinkle with salt and pepper. Roast on center rack 45 minutes, turning vegetables occasionally.
Place beets in small roasting pan. Drizzle with 1 tablespoon oil; sprinkle with salt and pepper. Remove large roasting pan from oven. Push vegetables to sides of pan, clearing space in center for pork. Place pork in center of pan. Return large roasting pan to center rack. Place pan with beets on bottom rack.
Roast pork with vegetables until vegetables are brown and cooked through and thermometer inserted into center of pork registers 150°F., turning vegetables occasionally, about 1 hour. Roast beets until tender, turning occasionally, about 1 hour. Remove pork and all vegetables from oven and let stand 10 minutes.
Place pork roast in center of large platter; surround with all vegetables. Re-warm sauce over low heat, whisking constantly.
Serves 8. Adapted from Bon Appétit
May 1998
Current Specials
| | |
| --- | --- |
| Lamb Ribs (Great in the crockpot) | $ 3.99 lb |
| Lamb Sirloin Chops | $13.99 lb |
| Boston Butts or Pork Roast | $ 5.99 lb |
| Pork Neckbones | $ 1.50 lb |
| Pork Sausage (Hot, Mild, X-Sage) | $ 12.00 for 3 lbs |