Comments From
Restaurants
& Customers


We always welcome restaurant inquiries.
Please visit our wholesale pricing page for additional info.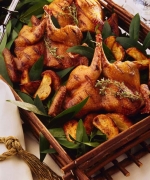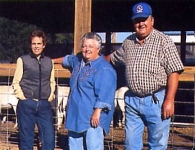 Thank you for visiting the online outlet for Rainbow Meadow Farms Pasture Pure Premium Meats. The Garner family strives to provide you and your family with only pure, wholesome superior tasting foods.
Rainbow Meadow Farms livestock rotationally graze about 300 acres of native grasses and small grain pastures on land that our family owns. The animals thrive on nutrient-rich, chemical-free pastures, enriched by the organic compost from the barns that we brood our baby chicks, farrow our baby pigs and lambs in. Each species in turn serves to better utilize the complete salad bar offering in the pastures, while enhancing the quality of and fertilizing those pastures. This rotational system is essential in producing quality meat products that are nutritionally dense, delicious in taste and contain many health benefits. The natural linoleic acid rich diet that our animals receive has been shown through numerous studies to promote heart health.
We have sought out and incorporated livestock breeds based upon their hardiness and ability to thrive on pasture as well as superior taste and tenderness.

We offer:
Berkshire Pork

Contentnea Red and Cornish Chicken

Dorper Lamb

Devon/Angus Beef

Rabbit

Turkey

Value Added Products: Sausages, Bacon, Pastrami, etc.

Free-Range Brown Eggs
We know you will enjoy Rainbow Meadow Farms Pasture Pure Premium Meats. But don't take our word, read what our customers have to say.

You may place your order via phone or online and schedule a pickup either at the farm or at one of the markets that we attend. You may purchase any amount of our frozen packaged meat products that you wish. You purchase may be as small as one pound of sausage or a whole lamb, hog or beef, processed to your specifications. Also, you may order online at any time but our schedule shipping day is on Monday. Please try to get your orders submitted by Sunday evening for shipment on the following Monday. If you prefer to order without entering your charge information on-line, you may call us at (252) 747-5000. All our beef purchase options are listed on the upper left Sidebar under "Start Shopping Here".