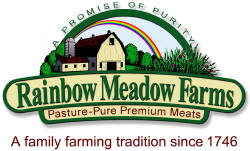 Thank you for your interest in Rainbow Meadow Farms Pasture Pure Premium Meats for your restaurant. Because you're a volume purchaser, we offer special wholesale pricing. If this is your first visit, please take a moment to fill in the form below so that we may know a little about you enabling us to better serve your needs.
Your information will be kept on file, where you'll
have direct access to special pricing.
We will respond to your inquiry very soon.