As we sit here in the kitchen, the smell of the lamb stewing tells us that something special is cooking. Whether it is their free-range hens, or the pastured lamb and pork, Genell and her helping "family" at Rainbow Meadows Farm have the rest beat by miles. And they're all so nice to boot!
Sandy & John Schaff
New Bern, NC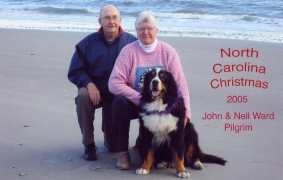 We have fed our Bernese Mountain Dogs a raw diet for 4 years. It is always a challenge to find a good source of RMB (raw meaty bones). We were delighted to see the sign for bones for raw dog food at the Rainbow Meadows booth at the New Bern Farmer's Market. Wow! what a find. Pilgrim loves the chicken backs and necks and lamb bones and organ meat. He has just discovered chicken feet. The cartilage is a great support for his aging joints. And everything is organic, which is a plus for me.
As a bonus, we started buying all our eggs from Genell, plus delicious sausage, and chicken and lamb. We do actually feed the people here, too. It is about time to dust off our old favorite leg of lamb recipe :-).
The Pridgen family has become our friends. I wouldn't dream of going to the market without Pilgrim and disappointing the children. We have visited Rainbow Meadows Farms and seen in person the wonderful set-up they have.
John and Nell Ward
New Bern, NC



Your chicken is delicious, the eggs were great too. Now we need some more. Any time you can fill the bill... we're ready. Order form is attached. Hope you had a nice Thanksgiving and wishing you a merry Christmas...
Claudia Ziebis
La Grange, NC

At Café Zito, we are thrilled to be able to get fresh organic lamb and chicken from Rainbow Meadow Farms. The enthusiastic response from our customers confirms that the quality is outstanding and the integrity and honesty behind these products is important to diners at our restaurant.
Baptist Knaven
Executive Chef - Cafe Zito
Morehead City, NC

"LOVE your products--we look forward to every meal with something new to try. For lunch today we're having Chorizo and Eggs with Spicy Tomatoes, and dinner tonight is Asian marinated Chicken Thighs."

We appreciate the personal relationship with you, the farmer. This means so much to our restaurant. Recently, a long time customer of ours (over 15 years) proclaimed it "the best chicken dish she had ever had in a restaurant".